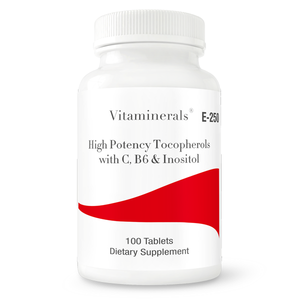 Supplement Facts
| Ingredient | Amount | % DV |
| --- | --- | --- |
| Vitamin C (ascorbic acid) | 30 mg | 50% |
| Vitamin E (alpha tocopherol succinate, tocopheryl and tocopheral acetate) | 250 IU | 833% |
| Vitamin B6 (pyridoxine Hcl) | 5 mg | 250% |
| Inositol | 25 mg | * |
Other Ingredients:
Calcium phosphate, cellulose, vegetable stearin, magnesium stearate, silica.
Caution:
Consult your physician prior to using this product it you are pregnant, nursing, taking medication, under 18 years of age or have a medical condition.
KEEP OUT OF REACH OF CHILDREN.
Statements made regarding this product have not been evaluated by the FDA. This product is not intended to diagnose, treat, cure or prevent any disease.
Product Description:
VM E-250 provides Vitamin E in the natural succinate form, as found in the Krebs Cycle, along with additional potent factors. This product is a source of natural alpha tocopheryl with beta, delta and gamma tocopherols. To compliment and fortify protection against many diseases we have combined Vitamin E with Vitamin C, B6 and Inositol.
Vitamin E is a powerful antioxidant that is found in all human cells. This vitamin can protect, heal and combat free radical formation and damage. As an antioxidant, Vitamin E works to also protect the health of the heart and circulation systems – both respiratory and blood circulation. It is also often used in the beauty industry to improve the health of the skin, by healing stretch marks, sun damage, and improving aged skin and boost hydration.
Vitamin C can strengthen the immune system, promote wound healing and fight viral infections. Vitamin B6 works to improve the health of the nervous system and the metabolism of energy. Inositol is also known as vitamin B8 and it works to aid blood circulation and liver detoxification.