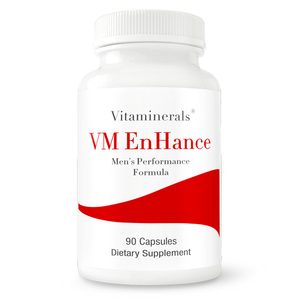 Supplement Facts
| Ingredient | Amount | % DV |
| --- | --- | --- |
| Niacin | 36 mg | 180% |
| Zinc (citrate) | 30 mg | 200% |
| Agmatine sulfate | 1,000 mg | * |
| VM EnHance Complex (Epimedium ext. (horny goat weed), Tribulus terrestris ext., Ashwaganda ext., Maca root, Ginkgo biloba ext., Caffeine, Deer antler) | 630 mg | * |
Other Ingredients:
Modified cellulose, gelatin, silica, magnesium stearate.
Directions:
Take three capsules daily for normal use. Take six capsules before activity or as directed by your licensed health professional.
Caution:
Consult your physician prior to using this product it you are pregnant, nursing, taking medication, under 18 years of age or have a medical condition.
KEEP OUT OF REACH OF CHILDREN.
Statements made regarding this product have not been evaluated by the FDA. This product is not intended to diagnose, treat, cure or prevent any disease.
Product Description:
The main ingredient in Enhance is agmatine sulfate. Agmatine is often used by athletes and bodybuilders to help boost workouts, improve mental focus, elevate mood and reduce pain. It is also used to improve endurance, improve energy levels, enhance testosterone production and aid in recovery. All these benefits occur due to agmatine being able to modulate neurotransmitter action and nitric oxide synthesis.
Niacin, or vitamin B3, is an effective blood vessel dilator that can improve systemic circulation. Niacin increases the width of blood vessels, allowing more blood and oxygen to move around the body to where it is required. It also contributes to producing hormones, decreasing cholesterol levels and improving energy production.
Zinc is used by the body on a number of levels, it can aid protein synthesis, physical performance and reduce muscle cramps. When the body is low in zinc, this can decrease testosterone levels and other growth hormones.
VM Enhance Complex contains a number of natural plant based extracts that can also improve performance. These include epimedium extract, tribulus terrestris extact, ashwaganda ext, maca root, ginkgo biloba extract, caffeine and Deer Antler. These derivatives are able to help improve blood flow, energy production, testosterone levels, muscle recovery, muscle growth, enhance libido and endurance.