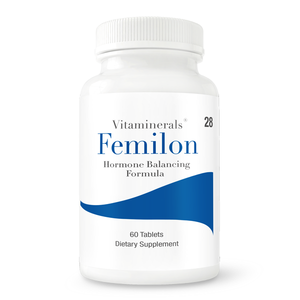 Supplement Facts
Ingredient
Amount
% DV
Vitamin E (succinate, acetate)
120 IU
400%
Vitamin B6 (Pyridoxine HCL)
100 mg
5000%
Magnesium
200 mg
50%
Femilon Complex
Black cohosh (Cimicifuga racemosa),
Red clover (Trifolium pratense),
Uva Ursi Ext.(Arctostaphylos),
Buchu Ext. (Barosma betulina),
Chaste Tree Berry Ext. (Vitex agnus-castus)
400 mg
*
Other Ingredients:
Magnesium oxide, modified cellulose, calcium carbonate, vegetable stearin, croscarmellose, magnesium stearate, silica.
Directions:
Take two tablets daily for the seven days prior to menses or as recommended by your health professional. May be taken one in the morning and one in the evening.
Caution:
Consult your physician prior to using this product it you are pregnant, nursing, taking medication, under 18 years of age or have a medical condition.
KEEP OUT OF REACH OF CHILDREN.
Statements made regarding this product have not been evaluated by the FDA. This product is not intended to diagnose, treat, cure or prevent any disease.
Product Description:
Femilon is a women's hormone balancing formula that supplies the required nutritional demands during the menstrual cycle, to help alleviate uncomfortable symptoms of Premenstrual Syndrome (PMS). To relieve symptoms of PMS, Femilon is best taken seven days prior to menses.
Femilon has combined the essential vitamins, minerals and plant-based extracts to ease symptoms of PMS. This formula contains Vitamin E, B6, Magnesium and Black Cohosh. Recent studies have found that vitamin E can significantly reduce pains associated with PMS, like breast tenderness. Vitamin B6 can restore hormones associated with mood changes, because it plays an important role in producing serotonin and dopamine. Research shows that low levels of magnesium can lead to PMS symptoms and so by taking magnesium you can reduce symptoms. Black Cohosh is derived from a flower and is used to treat menopause, menstrual discomfort, hot flashes, mood swings and emotional changes.