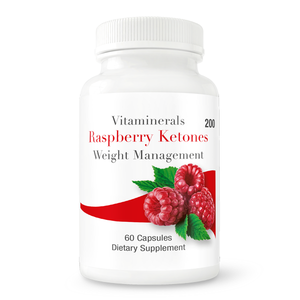 Supplement Facts
| Ingredient | Amount | % DV |
| --- | --- | --- |
| Raspberry Ketones | 500 mg | * |
Other Ingredients:
Microcrystalline cellulose, silica, magnesium stearate, gelatin capsule.
Directions:
Take two capsules once a day, preferably in the morning and in the evening with a meal or as recommended by your health professional. For optimal results incorporate regular exercise and a healthy, nutrient dense diet.
Caution:
Consult your physician prior to using this product it you are pregnant, nursing, taking medication, under 18 years of age or have a medical condition.
KEEP OUT OF REACH OF CHILDREN.
Statements made regarding this product have not been evaluated by the FDA. This product is not intended to diagnose, treat, cure or prevent any disease.
Product Description:
Raspberry Ketones are the primary aroma found in raspberries. Studies have shown that raspberry ketones regulate adiponectin, a protein hormone produced by fat cells that regulate metabolism and break down stored fat. Research has shown that boosting adiponectin causes the body to burn fat more efficiently.